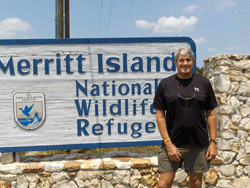 Stephen Coleman of Fort Lauderdale, Florida recently became a Diamond Feather Society member by including Ducks Unlimited in his estate plans. The gift will benefit Merritt Island National Wildlife Refuge. "It was a no-brainer. Ducks Unlimited has an established platform and presence in Washington, D.C. that is at the forefront in protecting our natural landscape," said Coleman. "DU also has a long-term comprehensive plan that is both scientifically and economically aligned with the vision of keeping the skies filled with waterfowl."

Merritt Island National Wildlife Refuge's coastal location, seven distinct habitat types, and position between the subtropic and temperate climatic zones contribute to the refuge's importance as a major wintering area for migratory birds. Over 500 species of wildlife inhabit the refuge with 15 listed as federally threatened or endangered. Several wading bird rookeries, 10 active bald eagle nests, numerous osprey nests, up to 400 manatees during spring months, and an estimated 2,500 Florida scrub jays can be found on the refuge.

More than 50 years ago on a crisp fall morning, Coleman's dad, Curtin, introduced him to hunting and ignited in him a lifelong passion to protect the natural world. "I have lived in southeast Florida for most of my life. This area used to be known for its clear blue waters that were filled with an abundance of seafood within a short swim off the beach. Now, the waters are murky with waste and sewage and it is unadvisable to fish or swim." Coleman said. These changes in the surrounding environments inspired Coleman to take a proactive approach to conservation.

Fishing, mountaineering, and waterfowl hunting are some of Coleman's outdoor passions. "I recognize how valuable and fragile our remaining wetlands are, especially in Florida and along the coast, where urbanization, development and invasive species problems continue to grow. I have seen first-hand many swamps drained and commercial developments spread, decreasing public lands for hunting and habitat for wildlife," says Coleman. "Knowing it's possible to preserve and restore some aspects of our natural spaces and maintain existing wetlands is what motivates my commitment and involvement to conservation."

For more information about how you can leave a legacy, contact Jon Rich, National Director of Gift Planning at 1-800-45-DUCKS or jrich@ducks.or.


You also may want to make it easy and convenient to have a bequest included in your will. The language link below shows how a bequest can very easily be included in your will.

You might find it helpful to print this page and the bequest language. Please feel free to give this information to your attorney. If he or she has any questions, please have them contact Jonathan Rich at phone number 901-758-3763 or e-mail us at jrich@ducks.org.



Click Here to review sample bequest language.